TEAMSTER WORLD RECORD HOLDER
Local 776 member, Sean Hightman recently set several world records in IPA (International Power Lifting Association) competition. Sean is a patrol officer with the West York Borough Police Department, having been with the force 4 ½ years, and trains at Chaillets Private Fitness in York. In March of this year Sean participated in the IPA Pennsylvania state open where he placed first in the Amateur raw men's open and first in the Police division; totaling 1260 pounds between squat, bench and dead lift. Seeing that his hard work was paying off Sean prepared for the IPA national championships, which were help at York Barbell in York on November 19-20. Sean competed again in the raw amateur men's open and in the Police category. Sean won first place in both categories and took home the best lifter award with a total of 1335 pounds while weighing in at 165 pounds. Sean finished the national meet with the following results; Squat 520 pounds (world record in the men's open and police divisions), bench 315 (Police division world record) dead lift 500 and a total of 1335 pounds (Police division world record). This success at the national meet qualified Sean to compete at the IPA world's competition, which is being held in Nova Scotia Canada in April 2017. Congratulations on your accomplishments Sean and good luck next year at the world competition.
TEAMSTERS LOCAL UNION NO. 776
On May 4, 2016 Local 776 traveled to Philadelphia, PA to support Teamsters Local 830 members in their fight against a sugary drink tax. Other Teamster Locals, different Unions, and even the employers who distribute the drinks participated in the protest. Local ABC Affiliate Channel 6 covered the protest; for more details follow the link below:
The PA Conference of Teamsters would like to commend Teamsters Local Union No. 776 President Ed Thompson for representing all over-the-road drivers throughout the state and addressing the PA Senate Transportation Hearings on safety.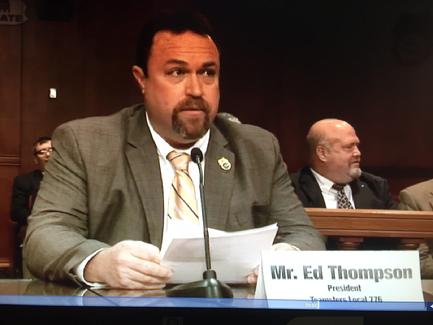 ED Thompson Principal Officer of Teamsters Local 776
(Harrisburg, PA Teamsters Local 776)
Recently the PA Senate Transportation Committee held hearings on Senate bills 93 and 94, pertaining to the removal of snow and ice from vehicles operating in the state. Local 776 members employed by numerous employers perform every operation in the commercial trucking field. With this being said Local 776 President Ed Thompson was asked to address the committee for his evaluation of Senate bills 93 and 94.
To download, view, and print the Senate Committee's agenda and President Thompson's testimony to the committee follow the link below:
Allentown Healthcare Workers Vote For Teamster Representation
Janitorial Staff Now Members of Local 773
(ALLENTOWN, PA.) July 2015 – A majority of janitorial workers working for Crothall Healthcare at Lehigh Valley Hospital in Allentown, Penn., have recently voted to be represented by Teamsters Local 773. There are 233 total employees in the group which consists of staff members assigned in the cleaning crews, room preparation and as floor technicians.
"The workers at Crothall came to us because they wanted to be represented by a strong union and to win a contract that improves their wage rates and working conditions," said Brian Taylor, Trustee of Local 773.
Teamsters Local 773 already represents 156 employees in the healthcare industry working at Hospital Central Services in Allentown.
"I am proud that we voted in the Teamsters," said Edwin Ubiera, a 4-year employee. "I have a brother who is a Teamster member in New York and he promised me that going with the Teamsters would be the best union for us."
The Teamsters Union represents more than 35,000 medical and health care workers across the U.S. including nurses, hospital technicians, blood service workers as part of the Public Services division. Founded in 1903, the International Brotherhood of Teamsters represents 1.4 million hardworking men and women throughout the United States, Canada and Puerto Rico.
Teamsters Local 8 Announces Tentative Contract With Penn State
Agreement Provides Solid Wage, Benefit Improvements, Caps Health Care Costs
Press Contact
Galen Munroe
Email: Phone: (202) 624-6911
(SCHUYLKILL HAVEN, PA) – Penn State University employees have reached a tentative contract agreement with the university which will continue to give the 2,500 members of Teamsters Local 8 economic and job stability, the union announced today.
"The tentative agreement provides guaranteed wage increases while capping the employees' costs for health care coverage," said Jon Light, President of Teamsters Local 8 in State College, which represents about 2,500 members at Penn State. "The tentative agreement also includes improved procedures to address issues involving worker misclassification."
Today's announcement took place during a news conference with Penn State workers, their supporters and Teamster representatives, before the start of a meeting of the university's Board of Trustees.
Kathy Cox, a food services worker at Penn State-University Park, read a letter from Local 8 to the Board of Trustees, praising the tentative agreement.
"The agreement provides economic stability for the university, our members, their families and the communities where they live," Cox said. "The results of our contract negotiations should stand as an example to all, that when we come together for the greater good, much can be accomplished."
Founded in 1903, the International Brotherhood of Teamsters represents more than 1.4 million hardworking men and women in the United States, Canada and Puerto Rico. Visit www.teamster.org for more information. Follow us on Twitter @Teamsters and "like" us on Facebook at www.Facebook.com/Teamsters.
NEWS FROM
Teamsters Local 773
1345 W. Hamilton Street, Allentown, PA 18102
Tel: (610) 434-4451 Fax: (610) 770-9581
For Immediate Release Contact: Dennis Hower
April 9, 2014 (610) 434-4451
POLK TOWNSHIP ROAD CREW WORKERS
RATIFY TEAMSTER CONTRACT
Unanimous Vote For Teamster Power
(ALLENTOWN, Pa.) – Road crew workers employed by Polk Township, Pa., have recently voted for their first Teamster contract and to be represented by Teamsters Local 773 in Allentown. The contract was unanimously ratified and carries with it significant raises and seniority rights, and the members are now eligible to be part of the Teamster health care plan.
"I would like to thank Teamsters Local 773 for getting the road crew at Polk Township their first contract," said Hal Touni, a road crew employee. "This has been long overdue and well-deserved. Finally, we have respect and a voice that is heard. This is a perfect example of why unionization can really make a difference."
The unit of five workers say they are confident they now will be treated fairly with a strong Teamster contract in place.
"We are proud to have the opportunity to hold the employer accountable for what is in this first contract for road workers," said Dennis Hower, President of Teamsters Local 773.
Founded in 1903, the International Brotherhood of Teamsters represents 1.4 million hardworking men and women throughout the United States, Canada and Puerto Rico Visit www.teamster.org for more information. Follow us on Twitter @Teamsters and "like" us on Facebook at www.facebook.com/teamsters.
TEAMSTERS LOCAL 776
Article from IBT Website
The War on Workers rages across five Pennsylvania towns that disbanded their union police forces. Now they rely solely on state police.

The Evening Sun reported on Oct. 13 that Hamiltonban Township would not renew its contract with its lone police officer, who had joined Teamsters local 776.

Three days later, the Newport Borough Council voted 3-2 to ignore the police union contract and immediately dissolve the police department. Minutes later, the two police officers were told to get their personal belongings out of the police station. A constable stood by as a locksmith changed the building's locks. One councilor resigned in protest.

The two Newport Borough police officers are also represented by Teamsters Local 776. Said Secretary-Treasurer Mario Garofalo:
Everyone was blindsided. The residents are in an uproar. What was done was outrageous and the Teamsters are standing behind our members and the residents.
What is happening here is happening in other places. It's a domino effect.
He's right. Police departments are trying to disband their Teamster-represented force in Eastern Adams, something Local 776 is fighting in a last ditch effort to prevent. Local 776 has viable information that West York Borough is looking to dissolve its police department. Middletown is also looking to disband, having outsourced their 911 center. They've furloughed police officers and public works employees already.

Local 776 is looking into possible open meeting violations. The meeting during which the vote was taken had been scheduled for 7 pm, but was held 11 hours earlier. And since the Teamsters contract expires on Dec. 31, 2013, the local filed an unfair labor practice charge with the Pennsylvania Labor Relations Board.

In the meantime, residents of Newport Borough staged a four-hour protest on Saturday. The Patriot-News reported:
Newport is usually a ghost town on Saturday mornings.
Not today.

About 50 residents carrying signs and yelling comments took to the streets of Newport for four hours to show their support for the police department, which the Borough Council abruptly disbanded on Tuesday.

They carried signs calling for the resignations of council members Tami Halstead, Lorrie Nulton and Jason Ehrhart, who voted to disband the force.

They took turns shouting into a megaphone and broadcasting the sounds of police sirens and gathered signatures for petitions to save the Newport Police Department.

Many residents of this blue-collar town on the Juniata River rallied behind Officers Richard Behne and Barry Keller, whom they consider family. Newport has about 2,800 residents.
"It's an attack on workers," said Garofalo. "It's an all-out attack on working people represented by unions."

Local 776 represents about 100 police officers in south central Pennsylvania.
Posted by Teamster Power at 2:44 PM
© PA Conference of Teamsters 2000-2017 All Rights Reserved
Web Hosting powered by Network Solutions®